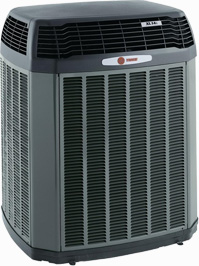 Inspired by his father, Trane's son Reuben studied mechanical engineering at college and returned in 1910 to work with his father in developing new products. Father and son incorporated The Trane Company in 1913, and ten years later in 1923, Reuben invented the convection radiator, an innovation that firmly established The Trane Company as a leader in the field of heating technology. By 1931, the Tranes were at the forefront of what was then the new development of installing air conditioning in domestic and commercial buildings to increase comfort and temper summer's heat. In 1938, Trane launched the Turbovac, the first ever hermetically-sealed, centrifugal refrigeration machine.
In 1982, Trane acquired General Electric's Central Air-Conditioning Division, and so moved into the domestic air-conditioning market. General Standard Companies acquired Trane in 1984, and Trane became the largest of the three General Standard businesses. This allowed Trane to continue to develop and expand, while maintaining its high quality standards and commitment to innovation. However, the other General Standard companies have now been spun-off, and General Standard Companies was renamed Trane in 2007, reflecting its commitment to the Trane legacy and the heating and air conditioning industry.
In 2008, global company Ingersoll Rand acquired Trane, an exciting development that has enabled Trane to become a global industry leader. Today, Trane operates in over 100 countries, with 29 production facilities world-wide, including U.S. based factories for U.S.-based customers with over 29,000 committed Trane employees.
Ever since the 1920's, Trane has continued to develop and innovate at the top of the heating and cooling industry. Trane's CenTraVacTM, part of its current product line, is the most energy efficient commercial air conditioning system available from any manufacturer worldwide. It was awarded the U.S. Environmental Protection Agency's 'Best of the Best' Award, and unsurprisingly has become the industry standard for large commercial air conditioning systems. Trane's high quality and commitment to excellence are reflected in its slogan – 'It's Hard to Stop a Trane!'
Let's take a look at Trane's current domestic and commercial heating and air-conditioning products, and how they could benefit your home or business. Integrity Air & Heat Inc.'s dedicated and experienced staff will be happy to assist you with further questions and to arrange servicing or installation.
Trane Domestic Heating and Air-Conditioning Systems
Although Trane is perhaps best known as the engineer and supplier of the industry-standard commercial air-conditioning systems, they also produce award-winning domestic heating and air-conditioning systems. Indeed, it can be said that Trane produces the most recognized and highly rated domestic air-conditioning and heating systems on the U.S. market, and a Trane domestic air-conditioning system is sold somewhere in the U.S. an average of every minute of the day!
Trane domestic heating and air-conditioning systems are available in the U.S. under two brands – Trane itself, and American Standard Heating and Air-Conditioning. These air-conditioning systems are highly energy-efficient and also have incredible air filtration power, removing up to 99.98% of airborne allergens and particles from your home. The smallest airborne particle removed by a Trane system is only 30 microns in size, which is 1/300th of the width of a human hair. Work by professors at Harvard School of Public Health has scientifically proven that Trane's air filters are 1000 times more effective than standard air-conditioning filters. This makes a Trane system an ideal choice for anyone who has a family member with respiratory problems or issues such as asthma, as well as anyone who cares about the quality of air in their family's home. A Trane system will not only save you money through its energy efficiency, but also promote the health and well-being of your loved ones.
Trane Commercial Heating and Air-Conditioning Systems
Commercial air-conditioning systems are a field in which Trane has always excelled as a world-leader. As we already saw, Trane's CenTraVacTM system has become the award-winning industry standard for air-conditioning of large commercial spaces. Trane systems can be found in over half the commercial buildings in North America.
Trane commercial air-conditioning systems can be found in the some of the most prestigious commercial locations worldwide, from Milan's famous La Scala Opera House and the Australian Stock Exchange to Beijing's World Trade Center Complex, Toronto's basketball Skydome, the Washington Monument and even the Kremlin in Moscow. This provides ultimate proof of the performance and reliability of a Trane air-conditioning or heating system.
Trane's commitment to clean air is built into its systems' capability to filter the indoor air for the benefit of workers and visitors inside a building, and to filter the air expelled from a building, ensuring the there is as little environmental pollution as possible from the building. In 2007, Trane was invited to join the Clinton Climate Initiative, a group of businesses and government bodies established by former President Bill Clinton with the aim of reducing greenhouse gas emissions in 40 of the world's largest cities. This is further proof of Trane's commitment to environmental protection.
Integrity Air & Heat Inc. Is Ready When You Are
Contact Integrity Air & Heat Inc. today to learn more about Trane heating and air-conditioning systems, and how they could benefit your home or business. Integrity Air & Heat Inc.'s experienced, dedicated heating and air-conditioning engineers and technicians will be delighted to assist you with all your installation and servicing needs, throughout the Brevard county area.